Laser Instant Electronic Water Heater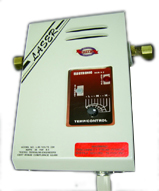 The Laser will supply endless amounts of hot water, saving as much as 60% on water heating costs. The heating elements are shielded copper elements, used for reliability and long life. The Laser Electronic Linear Temperature control system makes it the most versatile unit in its class on the market today. Only one heater is needed for an entire apartment, small house, business, etc. It is compact in size, energy efficient and very easy to install. No venting or pressure relief valves are necessary.
Endless Amount of Water
Heats Water Only When Needed
No Flames or Fumes to Worry About
Very High Resistance to Hard Water
Energy Efficient
Laser Units Are For Export Sale Only
Shielded Copper Element
No Tank Ruptures or Flooding
No Pressure Relief valve or Venting
Will Not Turn on to Dripping Faucet
Linear Electronic Temperature Control
Applications
Small homes, Trailer & Motor Homes, Hotels & Motels, Apartments, Condos, Cottages, Hospitals, Playgrounds, and ANYWHERE HOT WATER IS NEEDED!
Laser model are for export sale only
LASER MODELS
| | | | |
| --- | --- | --- | --- |
| Models | Amp | Kilowatt | Volts |
| L-64 | 0-29 | 0-6.4 | 220 |
| L-75 | 0-34 | 0-7.5 | 220 |
| L-85 | 0-38 | 0-8.5 | 220 |