Come visit us at the 2019 AHR Expo in Atlanta Ga. Jan. 14 - Jan. 16 Booth.# C6713Titan® Electronic Tankless Water Heater

Niagara Industries - News- Titan® tankless water heater information
JJanuary 2017, Niagara Industries Inc celebrates 32 years in business...
Niagara Industries is celebrating a mild stone in 2017. Over three decades ago Niagara Industries opened its doors for the first time. One man's dream of manufacturing and selling a whole house tankless water heater started in a small warehouse in Miami 32 years ago. Today our Titan Tankless Water Heater are knows all over the industry and out designs have formed the basses of how many tankless water heaters are built. We continue to more forward presenting new products and we thank all our loyal customers for three decades of patronage.
---
November 27, 2014 Niagara Industries Inc will be at the International Builders Show in Las Vagas, Nevada Jan. 20-22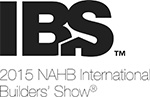 Niagara Industries will be showcasing its newest design patented digital control system for the new Titan-SCR4 Series of electronic tankless water heater. For those attending we will be at booth S2264 with product information and new product release designs. For more information you can visit the go to: www.buildersshow.com
---
November 20, 2014 Changes are coming to the water heater market for 2015
On April of 2015 the National Appliance Energy Conservation Act will come into effect. One major change is that electric tank water heater 55 gallons and up will only be sold in a heat pump configuration to meet the requirments. For more information visit: www.energy.gov
---
August 10, 2013 Niagara Industries receives NSF/ANSI -372 certification for its tankless water heater line.

The new No Lead/No Lead law will go into effect January 4, 2014 requiring plumbing products to be certified "Lead Free" by laboratory testing. Niagara Industries is one of the first companies to have its units certified. Tankless water heater manufactures will have to conform to this law.
---
November 15, 2012 Niagara Industries launches its new mobile website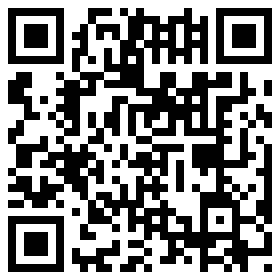 Product information, technical support, installation instructions and more are now available on your smart phone. Just log on to our website or scan the code and go.
---
August 20, 2012 Niagara Industries Inc goins the growing list of SelectUSA.gov members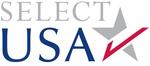 ---
April 20, 2012 Niagara Industries Inc is awarded a patent for its tankless water heater assembly
Niagara Industries Inc was awarded a patent# 8150246 for its tankless water heater assembly
---
December 1, 2011 Niagara Industries Inc updated P.I.D. Algorithm Controller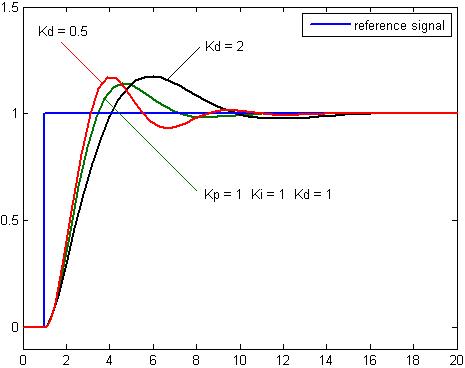 The PID controller calculation (algorithm) involves three separate parameters; the proportional, the integral and derivative values. The proportional value determines the reaction to the current error, the integral value determines the reaction based on the sum of recent errors, and the derivative value determines the reaction based on the rate at which the error has been changing. The weighted sum of these three actions is used to adjust the process via the processos such as the power supply of the heating element.
---
August 23, 2011, Niagara Industries Inc unveils its new redesigned Titan-SCR3 Electronic Digital Tankless Water Heater with LCD display.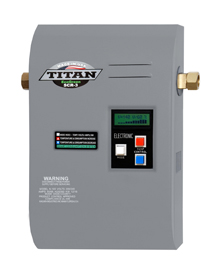 The future of Titan Electronic Tankless Water Heaters is here. For over 2 decades Titan Electronic Tankless Water Heaters have defined the parameters of what tankless water heaters should be. Now the next generation of tankless water heaters has arrived.
The Titan-SCR3 Electronic "Digital" Tankless Water Heater is the state of the art in Titan tankless technology. Unlike other units that display setting the Titan-SCR3 goes far beyond that. The new Titan-SCR3 system displays real time usage and efficiency information to the user. There is no more guessing, now you can know what amount of power (Voltage, Amperage and even KW) you are actually using from your Titan-SCR3 Electronic Digital Tankless Water Heater. Also the unit will display outlet water temperature.
---
April 22, 2010, Niagara Industries announcing the opening of its second manufacturing plant.

Niagara Industries Inc is proud to announce the opening of its second manufacturing plant in Miami. This new facility will enable us to increase our manufacturing capabilities and expand our development efforts. This state of the art facility allow for multiple production lines to be run as well as a research, development, testing and prototyping sections. This facility is a key part of our corporate expansion plans and will assist our company in meeting our strategic goals for 2010 as well as increase our marketing campaign capacity with a constantly growing customer base. The plant has already gone on-line as of April 12, 2010 and has created many new jobs that are needed in the community. Further more we have entered in an joint venture with one of the three largest appliance manufactures to build a tankless water heater line for them. January 4, 2010, Niagara Industries Inc celebrates its 25th year in business.
---
HERE TODAY...HERE TOMORROW
Niagara Industries Inc., is celebrating a monumental moment, 25 years in business. In a time when companies barely make it to 5 years we at Niagara Industries Inc, feel proud to be celebrating our 25th year in business. This could not have been done without the dedication of out staff and employees. Their dedication to the design, quality and performance of our Titan Electronic Tankless Water Heater has allowed us to reach this anniversary. We would like to take the opportunity to thank all our clients, customers and friends for helping us to reach this quarter century and we look forward to continuing to supply your tankless water heating needs for years to come.
---
December 14, 2009, Niagara Industries Inc was excepted into the United Nations Global Compact Alliance.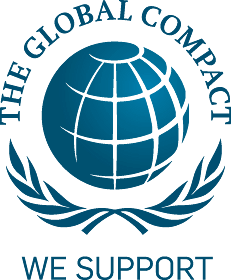 The UN Global Compact's ten principles in the areas of human rights, labor, the environment and anti-corruption enjoy universal consensus. The Global Compact asks companies to embrace, support and enact, within their sphere of influence, a set of core values in the areas of human rights, labor standards and the environment. Niagara Industries Inc, is proud to have been selected and joins the ranks off hundred of other companies around the globe to ensure a prosperous future for all. Click here
---
October 26, 2009, Niagara Industries Inc, releases its new Titan®-D Electronic "Digital" Tankless Water Heater with real-time display.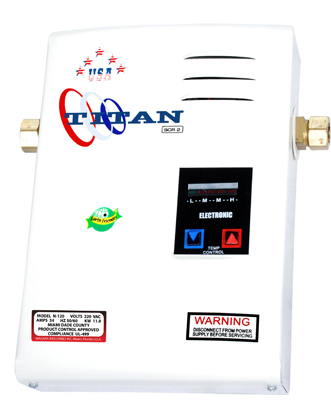 The new Titan®-Digital Electronic Tankless Water Heater is an amalgamation of years of research and development into the understanding of what people want and expect from a tankless water heater. The Titan Digital microprocessor monitors usage and automatically adjust its power to give the user a constant temperature and at the same time it optimizes itself to use as little power as possible increasing its saving potential. This is all made possible due to Niagara Industries new TEMPLOGIC™ Technology. This technology is designed by us and is unique to all our Titan Electronic Tankless Water Heaters. The new Titan-Digital is a user friendly, highly advanced electronic tankless water heater built and designed in the USA and backed by the strength of a proven company like Niagara Industries Inc.
---
February 2, 2008, Titan® Tankless Water Heater installed in first Miami "Affordable Green Home"

caption; refer to old website
The Titan® Electronic Tankless Water Heater was chosen to be installed in South Florida's first " affordable green home" The ribbon cutting was made by the mayor of Miami. The homes builder and designer envisions building many more homes like this to deal with the increase in electrical cost and to protect our environment.
embedded video
---
December 1, 2007, New manufacturing facility
Niagara Industries held its first "open house" at its new manufacturing facility. The gala event was hosted by newly appointed president of Niagara Industries, Alex Bolivar. The company has worked with charaties like the International Red Cross . Niagara Industries has assisted the local and international community during times of need from can food drives for hurricane victims to monitery donations.

---
January 10, 2006, Niagara Industries Inc introduced the new Titan-SCR4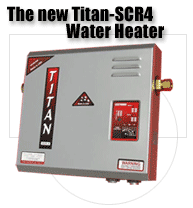 In meeting the increase demand for larger volume showers and with the increasing cost of natural gas and propane. Niagara Industries Inc introduced it newest model the Titan-SCR4. This unit is designed for northern climate and also for large homes that only have one tank installed and retrofitting to install two would be cost prohibitive. The Titan-SCR4 utilizes 3 heating elements and it is more powerful than some 4 element units on the market. The Titan-SCR4 will be a great addition to the family of Titan Electronic Tankless Water Heaters.
---
UPDATE--July 24, 2000--S.A.T.O.P. / Niagara Success Story

Niagara Industries Inc., has just completed a 6 month joint project with N.A.S.A. (National Aeronautics & Space Administration), S.A.T.O.P. (Space Alliance Technology Outreach Program) & The Thurston Co., What has emerged from this collaboration is the next generation of High Speed Electronic Integrated Circuitry. Some of this new technology has already been implemented in our Titan-SCR2, Laser & Laser-SH models. These new advances will revolutionize the future of electronic tankless water heaters for years to come.
We welcome you to view our site and compare for yourself the superiority both in performance and technology of our units to anyone in the industry. Our units have a proven track record and have earned the respect of the commercial, residential and industrial community throughout the world. We feel confident that we will earn your patronage as well.
---
September 2, 1998, Niagara Industries new "Laser" line is introduced.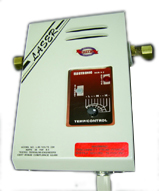 The Laser Instant water heater was designed to handle our growing export market. Manufactured in three models it is specially designed for the Caribbean, Central and South American countries. Its compact size allows for installations virtually anywhere. Also its low power consumption makes it ideal for areas where power is limited. The Laser Instant Water Heater comes with a linear temperature control which makes it the ideal choice for homes with only one water line.
---
April 18, 1995, Niagara Industries is granted a patent for its tankless water heater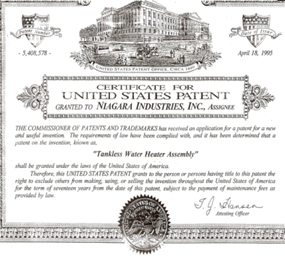 Today Niagara Industries received a letter stating, " The commissioner of patent and trademarks has received an application for a patent for a new and useful invention. The requirements of law have been complied with and it has been determined that a patent on the invention known as tankless water heaters assembly shall be granted under the laws of the United States of America" This date patent.# 5,408,578 (expired) was granted to use and to the units inventor Luis Bolivar.
---
March 25, 1995, Niagara Industries visited by Florida International University engineering students and Professors.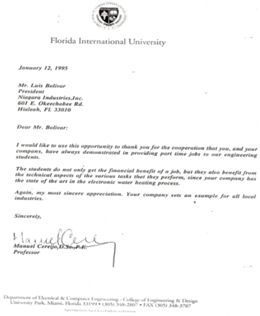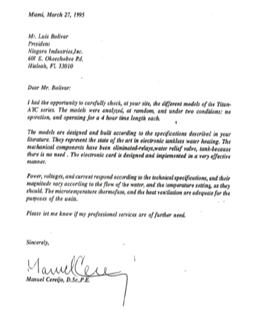 Niagara Industries was honored with a visit for FIU's top electronic engineering professors and its dean of engineering. The professors praise our electronic engineering department. Units are chosen at random and tested by the visiting body. As one engineering professes stated "The models are designed and built according to the specifications described in your literature. They represent the state of the art in electronic tankless water heating."
---
July 2, 1991, New Titan-"ATC Series" unveiled.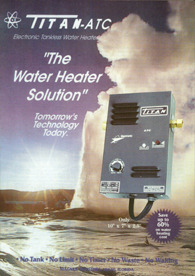 Niagara Industries Inc introduces its newest version of it tankless water heater. The Titan-ATC Electronic Tankless Water Heater. The Titan-ATC carry most of the technology as it predecessor with some design upgrades. The Titan-ATC carries the new air/water differential canalization design built into the construction of the unit. One of the main problems is the failure of heating elements due to "dry starts" This means that air gets into the system, this air enters conventional tankless systems and burns out the element. The new Titan-ATC will bleed out and bypass preventing "dry starts" and premature element failure.
---
May 22, 1989, Niagara Industries obtains UL compliance and Dade-County Approval.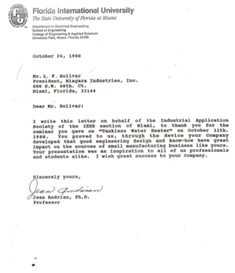 Niagara Industries Inc has submitted its line of tankless water heater to be tested under UL-499 stadards and all models have been approved. With this in hand Niagara Industries petitioned the building department of Dade-County (Which has the strictest building code in the state)We gained approval on all models and we are the first tankless water heater approved by Miami Dade County.
Niagara Industries is invited to give a seminar for the Industrial Application Society of the IEEE section of Miami at Florida International University. The seminar is the first of it s kind and introduce the IEEE society to the technology that is tankless water heaters.
---
September 1, 1987, The first electronic tankless water heater is born.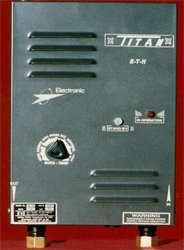 Niagara Industries Inc, with help from FIU and other well-known electronics companies unveils the worlds first electronic tankless water heater. The Titan-"ETH series" incorporates the new "time proportional temperature control" circuit. This system eliminates the old fashion system of points and diaphrams. The new Titan-ETH uses flow sensor, linear temperature sensors.
---
June 15, 1985, Niagara Industries Inc opens for business for the first time