Titan-SCR4 Electronic Tankless Water Heater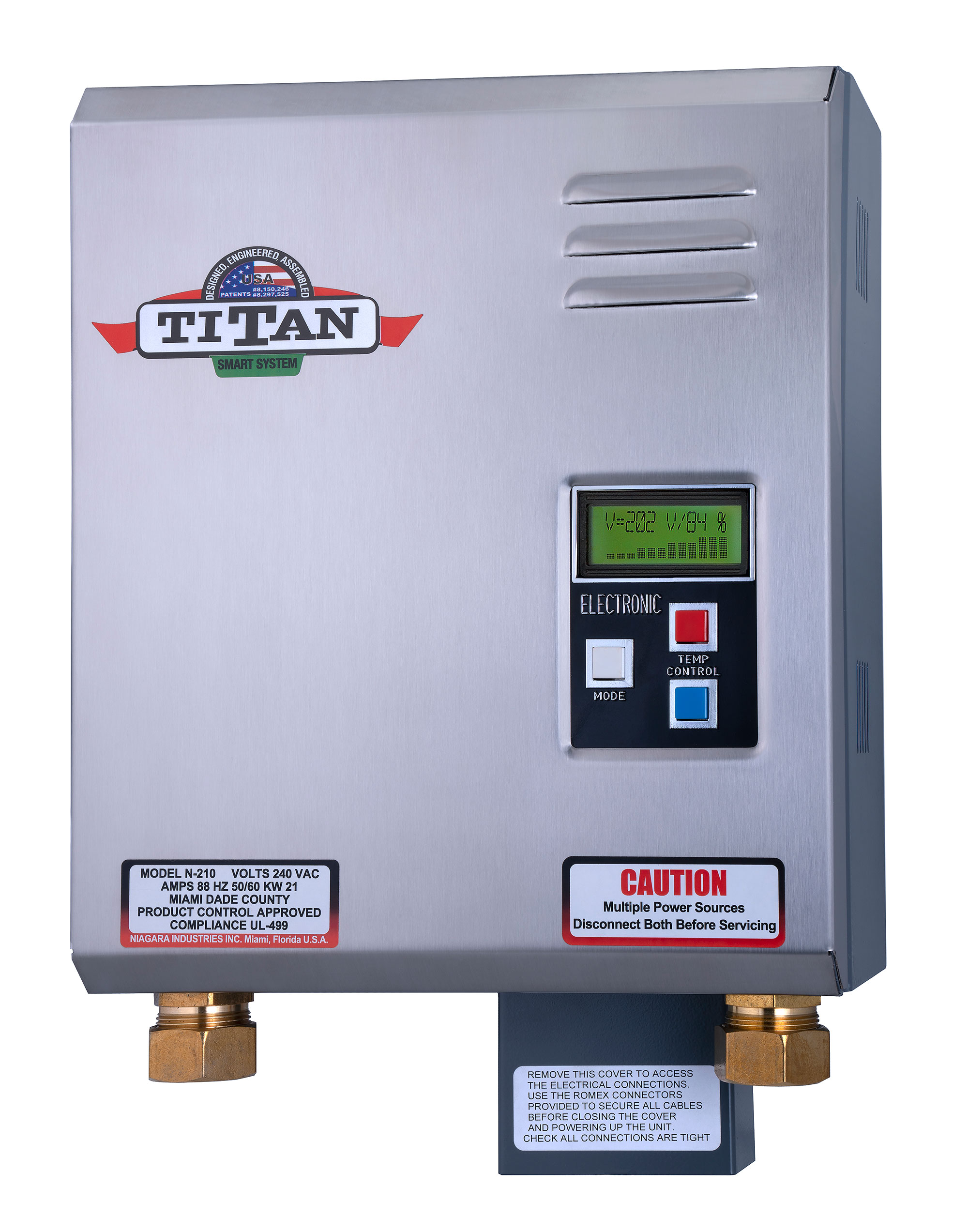 The New Titan SCR-4
With more than two decades of great success and customer satisfaction with our Titan-ETH, Titan-ATC, Titan-SCR, and Titan-SCR2, we decided it was time to increase the Titan family of tankless water heaters.
Many things have changed in the last 25 years; most notably, in the past most houses had a bathroom with a standard shower and a sink. Today many homeowners and builders are upgrading the bathrooms with new things like body sprayers and multiple showerheads. Also additions like whirlpool tubs have become standard in new constructions as opposed to an expensive remodeling a few years ago. That is the main reason for the need for a bigger capacity tankless water heater development, another reason for a bigger unit is the cold temperatures in northern states where a higher rise in temperature is needed to heat the water instantly.
We spent a lot of time talking with our distributors, installers, and customers directly, getting their feedback of what they were looking for. After two years of development and testing, we are proud to say that have achieved a state of the art heater and the newest member of the Niagara Industries family the TITAN-SCR4.
Available in three models, the new TITAN-SCR4 comes in 18 KW, and 21 KW; which is ideal for a wide range of applications including residential and some commercial applications. One TITAN-SCR4 unit can supply all the hot water needed and in some applications, energy savings can pay back the unit cost in one year.
The TITAN-SCR4 tankless water heater comes with a 10 year warranty on all water carrying components and all other parts are guarantied for one year. Installation is quick and easy requiring no venting, and the TITAN-SCR4 compact size allows installation almost anywhere. The TITAN-SCR4 is without a doubt the tankless water heater of the future.
IMPORTANT NOTICE
Check specifications and installation requirements on unit used.
Voltage, Amperage, Breaker, and wire size may vary depending on local electrical standards, consult an electrician for guidance. Plastic pipes are not recommended for proper installation.
The electrical specifications are based on 240 volts. It should be noted that higher voltage will increase power, just as lower voltage will have the reverse effect. User must determine the suitability of the unit for their application.
Do not over heat water. Water temperature from 105° F to 120° F is adequate for all practical purposes.
DO NOT WASTE ENERGY.
Specifications
| | |
| --- | --- |
| Compliance | UL-#499 |
| Listing | E212386 |
| Tested | MET Laboratories |
| NSF/ANSI-372 Certified | ETL Laboratories |
| Dimensions | 11 1/2" W x 10 1/2" H x 3" D |
| Weight | 12 Pounds |
| Materials | Brass and Copper Interior/Steel Casing. |
| Flow Rate | 5 GPM |
| Pipe Fitting | 3/4" Standard Pipe |
| Pressure Requirements | 5 PSI-Min./150 PSI-Max |
| Voltage | 240 Volts |
| Elements | Dual Nichrome Elements |
| Energy Efficiency | 99.5% |
| Activation | 0.4 GPM-on/).3 GPM-off |
| Indicators | LCD Digital Real Time Readout |
| Warranty | 10 years on casing 1 year on components |
| Protection | Electronic Temp. Control - Manual Resetable Thermostat |
MODELS
| | | | |
| --- | --- | --- | --- |
| Models | Max KW | Volts | Max Amps |
| N-180 | 18KW | 240V | 75 |
| N-210 | 21KW | 240V | 88 |
Temperature rise chart are for reference only, end temperature will depend on voltage and length.
N-270 27KW 240V 108
Model N-180
Flow Rate
(gallons per minute)
1.0 gpm
1.5 gpm
2.0 gpm
2.5 gpm
3.0 gpm
3.5 gpm
4.0 gpm
4.5 gpm
5.0 gpm
Temp. Rise
(fahrenheit degrees)
122
81
61
49
41
35
31
27
25
Model N-210
Flow Rate
(gallons per minute)
1.0 gpm
1.5 gpm
2.0 gpm
2.5 gpm
3.0 gpm
3.5 gpm
4.0 gpm
4.5 gpm
5.0 gpm
Temp. Rise
(fahrenheit degrees)
143
95
71
57
48
41
38
32
29